(S023E08) Previous Episode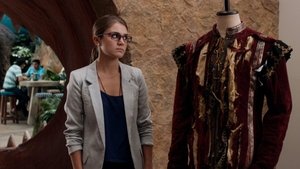 Aired On 2016-03-26
When Ivan mistakes a thousand year old suit of armor as a training dummy, he finds himself in debt after destroying it. Heckyl sends in a hybrid monster named Spell Digger to spread greed to anyone who touches his gold coins.
Next Episode (S023E09)
Airs On 2016-08-06
Shelby's lifelong friend Erin starts to take credit for a song that Shelby wrote when they were kids. But when Erin starts to take credit for the work of the Pink Ranger, she quickly realizes how dangerous it can be to claim ownership of someone else's work.
A team of teenagers with attitude are recruited to save Angel Grove from the evil witch, Rita Repulsa, and later, Lord Zedd, Emperor of all he sees, and their horde of monsters.
Writing:
Judd Lynn
Haim Saban
Shuki Levy
Stars: