(S023E013) Previous Episode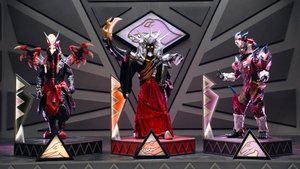 Aired On 2016-09-24
Chase is determined to master a dessert recipe from New Zealand, when a food critic visits the Dino Bite Café. Meanwhile, an evil monster comes to earth to find the Energems and takes control of the Zords and Megazords.
Next Episode (S023E014)
Airs On 2016-10-01
Tyler joins Shelby in auditioning for an open spot on the popular New Zealand band, The N-Zed Boys. Meanwhile, an ally arrives, but not before the Rangers suspects he has an ulterior motive.
A team of teenagers with attitude are recruited to save Angel Grove from the evil witch, Rita Repulsa, and later, Lord Zedd, Emperor of all he sees, and their horde of monsters.
Writing:
Judd Lynn
Haim Saban
Shuki Levy
Stars: