Is Shantaram Based on a True Story? Let's find out. – Shantaram, a 936-page epic novel by Gregory David Roberts, is one of the most recent books to transition from print to screen. Charlie Hunnam will appear in the drama series for Apple TV+ under the same name. Shantaram chronicles the exploits of Lin Ford, an Australian who, in the 1980s, escaped from a high security prison and fled to Bombay. There, he worked as a forger and smuggler for the Bombay mafia, a fake doctor, and a gunrunner in Afghanistan before being apprehended.
Renamed Shantaram, which means "man of peace," Lin is more of a lover than a combatant and is as brave as he is a crook. He adores Bombay's impoverished yet resilient residents, notably Prabakar, his former tour guide and closest friend. When a fire breaks out in a slum, Lin treats the injured using his knowledge of basic medicine while asking crime boss Khader (Alexander Siddig) for supplies from the black market. In addition, he develops a passionate love for Karla (Antonia Desplat), a stunning woman who pushes him farther into the underworld despite his hopes of independence.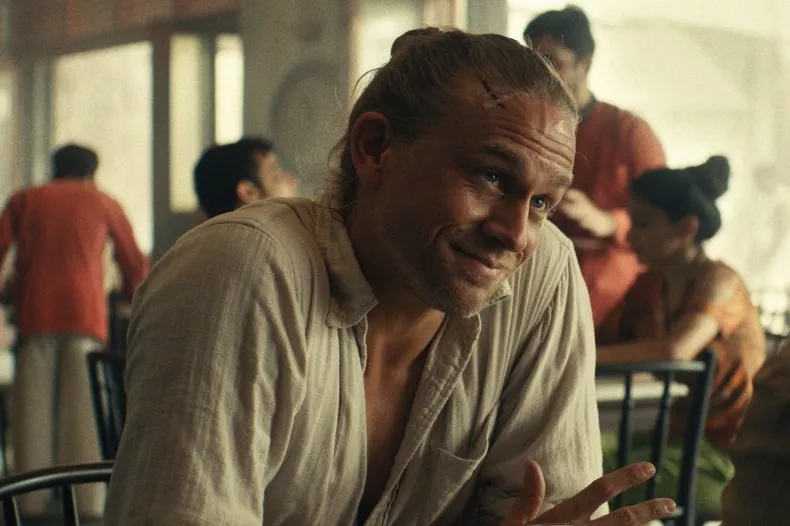 Is the Story of Shantaram True?
"Shantaram" is inspired by a real-life event in part. Shantaram tells the tale of "Lindsay Ford," a convicted armed robber who escapes jail in Victoria, Australia, and goes on the run. Lin is most often known as Lin, but his real name is Gregory David Roberts. He ends up in Bombay, India, using a phoney passport, and he chooses to remain there in order to evade capture.
He makes an effort to start over there and eventually finds himself in the village of Sunder, from where he get his name Shantaram (Man of God's Peace). Lin begins to establish a free medical clinic in the slum he ends up residing in after being robbed and left without anything. As a result, he integrates himself into the neighbourhood.
He works as an supporting actor in Bollywood films throughout his time in Mumbai, falls in love, and then is eventually drawn into the criminal underbelly.
As his life continues to spiral out of control, the book details his maltreatment inside the Indian jail system, his relationships with black-market companies, and even his interactions with liberation fighters.
As you might expect, this results in a novel that is action-packed, frequently deals with perilous plot points, and includes dozens of characters, many of whom, as author Roberts reiterated, are entirely made up.
He hasn't hidden the fact that the novel is a wild extrapolation of his own experiences; some of the cast members are actual, and in some cases, multiple real people have been combined into one protagonist.
For the sequel's official website, he said of Shantaram and The Mountain Shadow, "Some memories from my life are recounted pretty much as they happened, while others are created narratives, shaped by my experience." In order to explore the subjects that intrigued me while keeping the story current by tying it to some of my real-life experiences, "I planned to write two or three novels based on some basic elements from my life.
However, numerous Indians he met while visiting the nation have the opinion that several of the characters were at least partially inspired by them. Some of the assertions Roberts made in the book regarding his time with the family have been refuted by the relatives of Prabhakar Kisan Khare, the taxi driver who became his buddy and eventually drove him to his hometown. They have, however, recognized their friendship with him from the time he lived in Mumbai.
Other elements, which are difficult to verify due to their illegal and flamboyant nature, should be considered as fiction.
How much of Shantaram's Story is True?
Roberts has a troubled criminal history that dates back to his time in his native Australia. Roberts taught philosophy at Melbourne University during the 1970s (he was also known by his birth name, Gregory John Peter Smith).
However, Roberts allegedly acquired a heroin addiction that he couldn't support after his marriage crumbled and he lost custody of his daughter, according to an interview with BBC's HardTalk Extra.
He went to armed robbery to support his new habit, holding up building societies with substantial insurance coverage so that he would essentially be robbing solely from the wealthy. Newspaper clippings from The Age in Australia referred to him as the "building society bandit."
He received a 19-year prison sentence in 1978 after being found guilty of a string of armed robberies, but he was able to escape after just two years in Victoria's Pentridge Prison.
The Age claims that he just hopped the front wall with another prisoner and went unnoticed for 2.5 hours. He escaped to India with a fake passport and stayed there from 1981 to 1987 while travelling to Europe.
He spent six months of his stay there living in a slum and providing a temporary medical facility for cholera patients. Later, he was hired to trade in fraudulent passports.
He was finally apprehended in 1990 at the Frankfurt, Germany border after eluding Australian authorities for more than a decade. He was one of Australia's most wanted fugitives at the time of his capture. He spent two years in solitary confinement after being extradited back to his country, during which time he started writing Shantaram.
In an interview with FirstPost, he said, "[Solitary] allowed me the time I needed to finally comprehend that most of the suffering and embarrassment in my life was a beast of my own making, and that the buck started and stopped with me and my own responsibilities." Because I was now prepared to see it as way, "solitary confinement was a gift."
He was released from prison in 1996, and the semi-autobiographical 933-page book was eventually published in 2003.
The love interest Karla, who was entirely made up, is one of the phoney elements. Roberts has stated in multiple interviews that he considers it flattering that so many people believe she is real.
On Friday, the first three episodes of Shantaram's Apple TV+ debut. Thereafter, new episodes will be released every week.